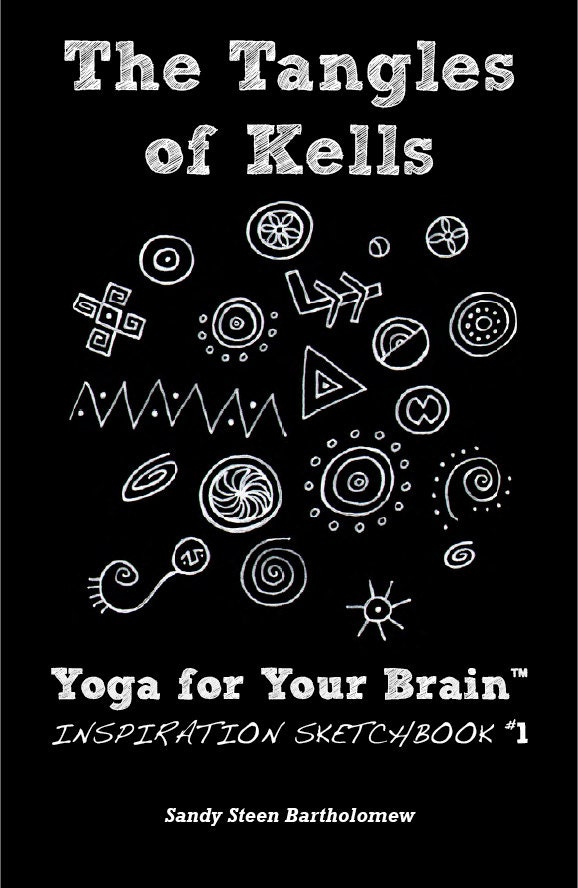 The Tangles of Kells
Yoga for Your Brain

™ Inspiration Sketchbook #1
by Sandy Steen Bartholomew
Specs
PDF(
electronic download)
format only
30 pages, 16 sheets
56 tangle patterns (all new or new variations)
Content
Cover
Intro Page
9 pages of tangle pattern steps
3 pages of illustrations
Link page
End page
(see list of tangle patterns below)
In a refreshing change of pace, Sandy Steen Bartholomew has given us an ebook, a downloadable PDF that you can buy at her website (click on the big red 'shop' button at the top of the page) or her etsy shop, to print yourself, or use on any electronic device that supports a PDF.
The cover declares this to be an Inspiration Sketchbook from Yoga for Your Brain
™, but you don't need that book in order to enjoy this one.
The tangles in the book were inspired by the animated movie 'The Secret of Kells'. Sandy spied endless designs, while watching the show that just demanded to become tangle patterns. And so now they are, lol!
The book is chock full of pattern steps illustrated in the Zentangle® style, but there is no instruction or emphasis on the Zentangle method itself.
Sandy says, "My emphasis, whether it's Zentangle or drawing, or just getting out of bed, is to encourage people to learn from my mistakes, um... learning experiences?... and integrate what I show, with their own lives. I hate copying and crafty projects with only one outcome. I tried to de-emphasize the Zentangle-y aspects, so people can just make art, whatever they want to call it."
Indeed. She gives us tangle patterns that range from the simplest of lines, a mere stroke or two, all the way to complex Celtic knots, yet the illustrated steps
are always clear and easy to follow. Her style is never intimidating or confusing.
Save for the introduction and links page, there is almost no text. There's one line explaining that 'red' indicates the next line drawn, and the titles of the patterns. At the end of the book there are some playful illustrations, with a brief teaser. And still, I believe someone who has never heard the word Zentangle could grab this book and run with it.
Page done using only patterns from The Tangles of Kells ebook.
A Note about my example drawing. I decided to try and stay closer to Sandy's style than to my own, and not shade, to give more the flavor of what someone could do, just based on what it in the book. I wanted both color and B&W for the same reason, but I didn't want the color to overshadow the tangles, so I went with grayscale (the left is actually the back of a bleedthrumanade-alcohol marker bleed-through).
The Tangles of Kells
can be purchased at Sandy's website or Etsy shop!
Tangle patterns included:
Book Tangles
Title
Arball
A-V-A
Backwash
Blaze
Burr
Ceil
DoodleDent
Doodlemoon
DubKnot
Erik
Fernery
Fidget2
Floracult
Fob
Fuse
Garnish
Hatch
Hombre
Iona
J-Roll
Kelp
Knot1
Knot2
Lamen
Lief
Lochs
Lolly
Lune
Mason
Mesa
Nami
Nock
Padre
Plait
Prizm
Quill
Ratrun
Roller
Scaff
Scramble
Scurge
SnowKnot
Somes
Spec
Splash
Spora
Stalaktos
Stella
Stix
Strata
Sylph
Sylph (variation
Sylphling
Twista
UmbleWeed
Winnow